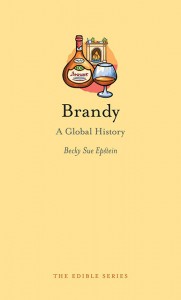 BRANDY: A GLOBAL HISTORY

by Becky Sue Epstein

Order now at


Cognac – an illustrious and elegant amber brandy – is currently one of the most fashionable components of high-end mixed drinks in the world's hottest bars.
An aromatic spirit made from distilled wine and produced around the globe, brandy has long been associated with refined taste and sophisticated consumption.
Many cultures have played a part in the history of the beverage, from the Dutch who made brandewijn [burnt wine] to the Spanish colonials in Peru and California who produced the first brandies in the New World.
This compact, lavishly illustrated book takes readers on a journey from the alchemists of the Middle Ages to present-day mixology hotspots, chronicling the history of the drink and the beautiful locations in which it is produced.
For those inclined to imbibe, the book offers advice on buying, storing and serving brandy, and features classic and new cocktail recipes for both connoisseurs and first-time drinkers to enjoy.
And the reviews are rolling in:
From Forbes.com …20 Things Ludacris (and Becky Sue Epstein) Taught Me About Cognac
From Alcademics.com …Eight New Drink Books on Whiskey, Brandy, Cocktails & History
From PalatePress.com …Reviewing Brandy: A Global History
---
Wine and spirits expert Becky Sue Epstein is an experienced editor, broadcaster and consultant in the fields of wine, spirits, food and travel. Currently based in New England, she holds several positions requiring a substantial amount of (mainly enjoyable) worldwide wine- and spirits-related travel.
In between trips, tastings and events, Epstein writes books. Her award-winning cookbook The American Lighthouse Cookbook (Sourcebooks/Cumberland, co-written with Chef Ed Jackson) came out last year. Her second book is an entirely new update of the classic kitchen reference Substituting Ingredients (Sourcebooks June 2010) which is already in its third printing.
Her book, Champagne:A Global History (Reaktion, September 2011), includes sparkling wines from around the world; available in print and ebook formats.
Brandy: A Global History (Reaktion, September 2014) is her latest book. It chronicles the history of this very popular spirit, traveling from medieval alchemists to present-day drink mixologists and exploring brandy's production and consumption from the Middle Ages to today.
Latest Articles
Follow me in my travels
Of course the main reason I wanted to try these Chronic Cellars wines is their labels. (See what I mean?) Oh, and I wanted to see what was going on in Paso Robles, wine-wise…yeah, sure, that's right. Well, we had a good time sampling the wines, and I can't say they're spectacular, but they're fun. I passed the remainders on to my neighbor Steve, and he and his girlfriend ended up ordering in and having an impromptu Date Night on a weekday. We all thought the wines went better with food than without. Especially the "Dead Nuts" zinfandel-based red blend, which was the most well structured and well-made of the three. "Sofa King" (syrah-based) was the next best (which is…
Read more