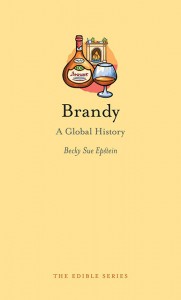 BRANDY: A GLOBAL HISTORY

by Becky Sue Epstein

Order now at


Cognac – an illustrious and elegant amber brandy – is currently one of the most fashionable components of high-end mixed drinks in the world's hottest bars.
An aromatic spirit made from distilled wine and produced around the globe, brandy has long been associated with refined taste and sophisticated consumption.
Many cultures have played a part in the history of the beverage, from the Dutch who made brandewijn [burnt wine] to the Spanish colonials in Peru and California who produced the first brandies in the New World.
This compact, lavishly illustrated book takes readers on a journey from the alchemists of the Middle Ages to present-day mixology hotspots, chronicling the history of the drink and the beautiful locations in which it is produced.
For those inclined to imbibe, the book offers advice on buying, storing and serving brandy, and features classic and new cocktail recipes for both connoisseurs and first-time drinkers to enjoy.
And the reviews are rolling in:
From Forbes.com …20 Things Ludacris (and Becky Sue Epstein) Taught Me About Cognac
From Alcademics.com …Eight New Drink Books on Whiskey, Brandy, Cocktails & History
From PalatePress.com …Reviewing Brandy: A Global History
---
Champagne Sabering with Becky Sue Epstein and Carol Yelverton
How to celebrate New Years Eve and Valentines Day with champagne … and a flourish.
Becky Sue Epstein, with her favorite Italian saber, demonstrates sabrage to open a bottle of Moët & Chandon Rosé Impérial for Carol Yelverton.
Becky Sue Epstein is the author of Champagne: A Global History, and is an an experienced saberer. Do not try this at home!