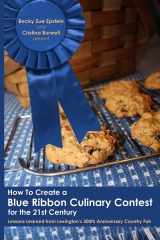 This book is your shortcut to putting on your own Blue Ribbon food contest — involve groups, neighborhoods, families and your home town for fun or fund-raising!
The authors' own involvement in their fair was an easy choice. Both love to cook and bake; one is a wine and spirits expert and the other is a designer with years of childhood 4-H experience. So they jumped in to run the Blue Ribbon Culinary Contest for their town's 300th anniversary country fair celebration.
After a successful fair and contest, they realized they could help you — your town or organization — put on your own successful event by passing along their hard-earned knowledge. So they sat down to write up what they had learned. This book contains everything you need to create your own contest: information about the foods, the judging process, the table decorations and the planning and timing of the whole contest event.
With the growing popularity of food contests in all media, you too can put on a Blue Ribbon Contest by following these lessons learned from the contest that took place recently in historic Lexington Massachusetts. In this small book, packed with everything you need from lists and timelines to invaluable tips, the authors have definitely achieved their goal: to share "How to Create a Blue Ribbon Culinary Contest".
About the Authors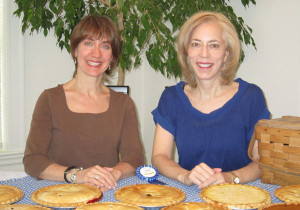 | | |
| --- | --- |
| Cristina Burwell | Becky Sue Epstein |
| Having spent her formative years participating in 4-H contests in her native Pennsylvania, Burwell was right in her element when co-chairing the Blue Ribbon Culinary Contest Committee at the Country Fair during the recent town-wide 300th anniversary celebrations in Lexington Massachusetts. An ergonomics and design professional, she has lived in Lexington for nearly 20 years; her household includes a husband, two children and a friendly white rabbit. | An amateur baker and cook, Epstein has authored several food and wine books including Substituting Ingredients and The American Lighthouse Cookbook. After returning to her home town of Lexington, Massachusetts some years ago, she enthusiastically joined in the town's recent 300th anniversary celebrations by co-chairing the Blue Ribbon Culinary Contest Committee for the Country Fair. She now lives in Lexington with her husband and two fluffy cats. |