Intrigued by Purity Vodka's great cocktail recipes and pureness claims I asked for one of their taste-test kits. It arrived this week, beautifully wrapped. When I enlisted my husband to set up the blind taste test, he asked me to leave the room so I wouldn't be able to peek. We used our own tasting glasses – small wineglasses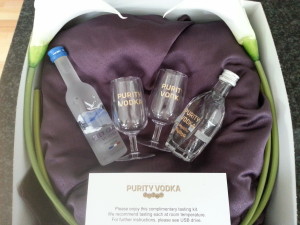 .
Vodka #1: hefty aroma and body, somewhat sweet with a fruit component and some bite in the finish.
Vodka #2: mild from aroma through finish.
I thought that #1 could add an interesting fruitiness to cocktails, but based on what I'd heard from Purity, I guessed that Purity would be #2 – which was my favorite.
I was wrong: Purity was #1.
I still love Grey Goose.
Thanks for the chance to find out.