Though most people say they like dry wine, until now we haven't been able to find that many good German dry Rieslings. This week I tried several, from famed Dr. Loosen. (They still make the traditional Rieslings too, don't worry.) One evening, Luiz Alberto (@TheWineHub) came over and tasted with me.
I found that all the wines had good acidity and some finesse. We paired the wines with pork loin with gravy, accompanied by oven-roasted root vegs sparked with dried cranberries. Sweet and savory together. And this did interesting things to the wines – some better, some not.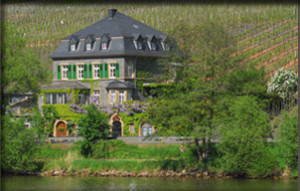 Before dinner, my fave was the 2012 Urziger Wurzgarten Riesling Alte Reben GG ($42) from the steepest of grand cru vineyards, planted with old vines known for their spiciness. It's a big wine, with finesse and complexity, that feels fully mature even now. Though the official tasting notes mention tropical fruits, I found flavors reminded me of fruit leather made with stone fruit. This was accompanied by hints of baking spices on the mid- and end-palate and in the finish, too. In the end, I enjoyed this wine much more on its own than with dinner because the finesse got lost in these foods. So the next night I sipped the wine on its own: excellent!
Dr. Loosen's 2012 Wehlener Sonnenhur Riesling GG ($42) was a bit milder, having been aged in larger, more neutral oak for a shorter period of time. This grand cru vineyard is blue slate, producing a wine with lots of minerality and acidity, and stone fruit flavors. This would require more delicate pairings than our hearty winter food – or perhaps with no food at all.
The 2012 Erdener Treppchen Riesling GG Alte Reben ($42) is from a grand cru vineyard on red slate, with old vines. Though the aromas were (typically) slight, the wine was a little sweeter, with flavors of candied grapefruit on the palate and in the moderate finish: a rather delicate wine — unfortunately too delicate to pair with our dinner that night. The next night it paired well with very simple crabcakes.
Then there was the youngest wine, the 2013 Reisling Dry "Red Slate," produced in neutral oak with native yeasts, just as Ernie Loosen's grandfather used to do. It opens ($18) with spritzy acidity, has ripe stone fruit on the palate and a longish finish. This wine ended up being the favorite of the evening, as it opened into an enriching match for the food – at a good price, too.