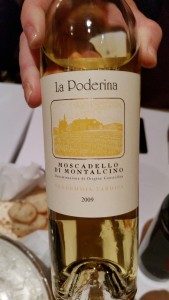 Did you realize that until a few decades ago, many people sought out great sweet wines in the little Tuscan town of Montalcino – which is now known as home of the powerful DOCG red wine Brunello di Montalcino? In fact, there are a couple DOC categories for these wines: Moscadello di Montalcino and Sant'Antimo Vin Santo.
Though I think they keep most of these golden wines for themselves nowadays, I found several wonderful ones to taste at the Brunello producers' recent New York tasting. (There were a few more, but I only managed to sample three.)
La Poderina's 2009 Moscadello di Montalcino was so intensely apricot, so well balanced with great acidity I might have pegged it as a classic Sauternes.
Banfi's 2012 Moscadello di Montalcino, true to its "Florus" name, was both floral and sweet – still young.
Il Poggione brought their current vin santo: a decade old! Their 2004 Sant'Antimo DOC Vin Santo was so intense and even raisiny it reminded me of well-made Pedro Ximenez sherry – and I say that as a compliment.