So, a number of years ago, this Danish guy's wife got a job as a dentist in Valencia and the couple moved to Spain. The guy discovered wines made from traditionally farmed "bush vines" (not trained on modern wire trellises) and he was hooked. He sought out the old vineyards and hired several winemakers to work in these areas.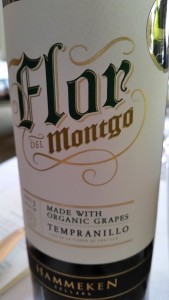 Today, Nicholas Hammeken's company produces wine from about 40% old vines (30+ years) – and they are even starting to see a few farmers returning their vineyards to bush vine plantings. Especially in areas where people had tried out "international" varieties but discovered that traditional Spanish grapes like garnacha and tempranillo do much better.
This year, after exporting to 40 other countries, some of the Hammeken wines are finally available in the US. Hammeken Cellars now produces 1.5 million cases of wine, from more than 20 Spanish wine regions.
At a tasting the other day I was pretty impressed with several of the wines I sampled. To start, a very nice cava from the traditional Penedes region: 2013 Picos del Montgó Cava, which was layered and well balanced, with medium small bubbles, nice acidity, classic notes of toast and yeast, with some lemon and apricot flavors too.
I particularly liked the 2012 Montgó Garnacha (DOP Carignena, $16.99):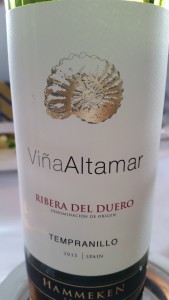 clear, dark ruby red, with good acidity and spice notes that complemented Middle Eastern/Mediterranean foods like chick peas, garlic sausage and other tasty bites with Moroccan style spices.
Though the Hammeken does have some more pricy wines in the US this year, a couple moderate product lines make it easy to identify the company's other wines on a shelf. Viña Altamar ($14.99) wines have a gold fossil on the label, reflecting the fossilized former seabeds where the Rueda and Ribera del Duero wines are grown. Then there's a fun retro-label Radio Boca (Radio Mouth) line with fruit-forward tempranillo and other wines for casual quaffing at $8.99.
The company is also looking toward organic wines, with a Flor del Montgó Organic Tempranillo ($13.99), with nicely integrated tannins and a plenty of plummy fruit. Great with chicken – especially at L'Espalier!