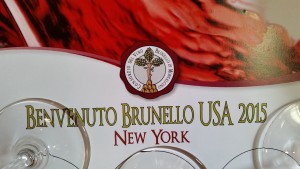 Since the hilltop town of Montalcino is not easy to get to, it's a good thing that the producers of Brunello di Montalcino bring their wines to the US for tastings. We do consume a quarter of the complex mahogany red wine they produce. Brunello is full of dark cherry flavors with additional notes that range from earthiness and cigars to anise and mint. There is elegance as well as power in these wines.
Can you tell I like Brunello? It won my heart a few years ago when I was plunked down in my first tasting of dozens of new Brunellos, and I inhaled the characteristic violet aromas of the new wines. Which then morphs into darker cherry and other complex flavors and aromas, equally charming. Of course the picturesque village and the festive atmosphere helped: this was Benvenuto Brunello, the annual February celebration of the release of the latest vintage of Brunello di Montalcino DOCG: in the fifth year after harvest.
This week in New York we tasted the newly released 2010 vintage. And 2010 being one of the top years of the past decade, it's clear this vintage will continue to evolve and be a delight to drink for many years – even decades to come. The wines have plenty of fruit, tannin and acidity, and a structure guarantees ageability in the wines. You might think that these wines would cost a fortune, but many of these powerful, world-class reds retail for as little as $45 a bottle.
Many of my favorites were there: Banfi, Lisini, Talenti, Val di Suga, and though I didn't manage to taste them all, some really stood out in the crowd: Camigliano, Col d'Orcia, La Poderina. And Voliero, which made me long for a meal to accompany it. Which reminds me that these are great food wines, especially with the simple cuisine of the Tuscan hillsides from back in the day: pasta and stews with grains and vegetables, until someone caught a rabbit or a wild boar to add to the table.