Rioja is becoming much more visible in the US with imports of these tempranillo wines increasing 18% last year. And a fact I like: women now make up 35% of the Winemakers' Association in this (formerly traditional) Spanish region. With many of the wineries ageing their wines for years before release, people buying Reserva and Gran Reserva wines can find value as well as complexity from the Spanish region of Rioja, with beautifully mature wines starting under $20 – pricing which probably won't last as more people discover these wines, like the 2008 and 2005 wines I sampled recently. Either decant these wines or sip them slowly as their aromas and flavors develop over 30-60 minutes.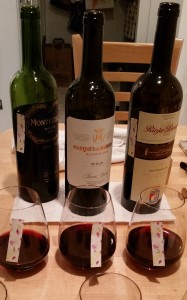 2008 Montecillo Reserva ($17) is a clear, dark red, still feels young, and opens well in the glass – in fact it's better after breathing for about a half hour, so this is a wine you could decant. Beginning with vanilla and blueberry notes, it opens to caramelized and dark red fruit. The body feels light for a red wine, with strong tannins, fairly well integrated. Good pairing: a plain roast pork or beef with herbed potatoes.
2008 Marques de Murrieta Reserva ($22) feels like autumn or winter, evoking a bit of smokiness. Vanilla and spiced berry, a touch of earthiness. Opening in the glass it becomes fruitier yet spicy: big, velvet, dark fruit, with good acidity for food pairing; steak tips is a good match.
2005 Rioja Bordon, Bodegas Franco-Espanolas Gran Reserva ($23) is earthy and woody, like a cigar box or treasures discovered in an attic. Graceful flavors and structure, light, tannins extremely well integrated. The mild fruit on the palate is just beginning to move to secondary fruit characteristics – from bright freshness to well-aged fruit tea notes, with perfect balance. Smooth…with plain dishes or sipped on its own.