When it has cooled off enough to go back into the kitchen, we're thinking about cooking again. Maybe grilling sausages, roasting meats, even putting potato gratin back on the menu. But we don't want to give up our white wines just yet…So here is the third of three suggestions about how to extend summer in your glass, during dinner.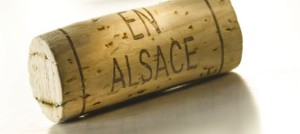 We're looking toward Alsace for the answer. A hilly region in the northeastern part of France, this area specializes in fine country-style cooking, with an emphasis on "fine," from hearty meats to dishes with mushrooms and eggs, and even some freshwater fish occasionally.
Start out with a delectable sparkling Cremant d'Alsace – this region is near Champagne, after all – like the nicely balanced Albert Mann Cremant d'Alsace Brut 2011 or the pale rose NV Willm Cremant D'Alsace Blanc de Noirs Brut.
With eggs, mushrooms, grilled meat and fish, move on to two more whites like the light but complex 2012 Willy Gisselbrecht Pinot Blanc or the earthy 2011 Sipp Mack Pinot Gris. And if you can't find these, go for a dry Alsace Riesling; I recently sampled the lovely, fresh 2012 Mader Riesling and the nicely developed 2007 Becker Riesling Grand Cru Froehn.
With a very light cheese in your cheese course, you might even stray into the classic rose-aromas of the 2011 Hugel Gewurtztraminer; stronger cheese can pair with a late harvest wine like 2001 Trimbach Riesling Cuvee Frederic Emile Vendanges Tardives –as can a light tarte or cake if you prefer a sweeter dessert course.