So much of the time I'm disappointed – or even appalled – when I taste Chardonnay wines. I'd like to say this time was different. But it wasn't.
Paul Hobbs' 2013 Crossbarn Chardonnay (around $26) offers a variety of very separate sensations. Perhaps they will come together in the future, but why not wait until then to release the wine?
After tasting, I studied the label more carefully. The grapes come from respected areas: Sonoma Coast and Sonoma County. Which should have been fine. Only it wasn't.
Scents of flowers, dark fruit and cardboard wafted through the aroma. A bit of sweetness reared its head on the palate, only to be knocked down by bitterness on the end-palate, with bitter acid in the finish. Food only made it worse.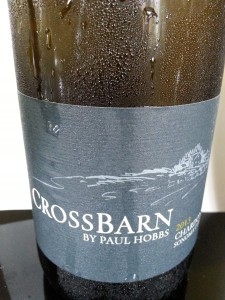 Dismayed, I put the rest of the bottle in the fridge and tried it again before lunch the next day. The random collection of disparate scents and flavors persisted. However, I did fine one food pairing that made it marginally better: whole wheat toast. But how useful is that?
Moving on, I sampled the 2010 Monteverro Chardonnay, IGT Toscana. Flavors and aromas were polarized from toffee-vanilla sweet to a sharpness that suggested the wine was acidified. Nothing good on the palate. And it only got worse with food – both at dinner and the next morning.
Wait, I just checked the price online: it's almost $100! How could that be?
Did a little research and heard that others have had problems with this chardonnay too. Is this a badly thought-out wine? Or simply an unstabilized wine? Or something else?
Strange, especially because the red Monteverro wines I sampled recently were good: the 2010 Tinata and Terra di Monteverro.