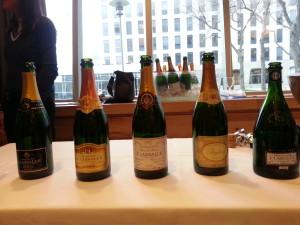 I don't know how boutique importer Kermit Lynch found them, because he's known as a Burgundy specialist but Champagne isn't too far away. Lynch is branching out, and I did sample some other very good wines he brings in, but at the end of the day this is what stood out freshly in my memory. The J. Lassalle Champagnes: medium-light in style and beautifully balanced.
NV Brut Reserve "Preference" has very good red fruit and good acidity: again, it's all about balance.
2005 Blanc de Blancs features minerality and acidity.
NV Brut Reserve Rosé, a pale salmon color, has excellent acidity and freshness.
The 2007 Cuvee Angeline is an almost Chablis-style wine, with the appearance of being austere but luring in your tastebuds for a bit more and a bit more.
The 2004 Special Club takes all of the above and adds just a touch of toast and yeast – but does this wine really need it?