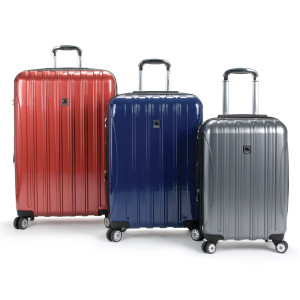 Stepping out of the car at the airport, I winced as the driving sleet hit my face. Even under the overhang, the winds were whipping up the tail end of the February blizzard. My suitcase landed in an inch of slush before I could re-group and muscle it onto the sidewalk. Strangely, I felt invincible. This was the first time I used a hard-shell carryon suitcase.
I had always shied away from hard suitcases, thinking they were somehow limiting. Well, there are a few negatives to this type of suitcase – which I'll get to later. So why did I end up with this carryon? Someone at Delsey noticed I travel and write about it and offered me a test, and I'm always up for learning something new.
When it arrived, the Aero suitcase was blue. I'm not a blue person. Suitcases, handbags, cars – I prefer everything in neutral colors, like black. But it's actually a royal-navy blue, kind of a dark color, I rationalized. Another thing occurred to me: it would now be a lot easier to pick out my blue suitcase on a baggage conveyor belt. I wouldn't have to crane my neck at every same-size black suitcase that went by, wondering if that was my discreet tag on the outside handle. Which brings me to a negative: there's no slot on the exterior to slide in an ID tag. You have to have your own handle-tag to attach. And also because of the smooth exterior, there are none of the external pockets for hats, gloves, magazines that I'm used to. All those things must be shoved into that small "personal item" — as the airlines call our computer-handbags.
Inside the suitcase, it's a whole different story. Somehow, this suitcase morphs you into a neater packer. It opens flat. On one side, you can put in neat piles of clothes, and zip them in neatly. On the other side, you fit in shoes and all your other stuff any way you want – and hold them down with the elastic snap-together straps.
Closed, the case is glossy and neat, and there is an exterior lock built in. With four wheels, the case moves nicely down airport corridors. One other small negative: it's a bit hard to get out of the trunk, or down from the airplane bin, the way the handles are configured. I always seem to want a handle on the side where there isn't one.
In hindsight, I don't think I would have tried a hard-shelled case if someone hadn't offered. But now I like it: on my first two trips there's been snow and rain, but I felt like my stuff was more protected. More invincible. Who knew?