The other day I learned that Moët & Chandon's most popular champagne has been slowly altered over the last few years. The champagne is called "Imperial" and it's found everywhere, in wine shops as well as in restaurants. It's very good.
A few years ago, Imperial replaced Moët's ubiquitous "White Star" champagne. White Star was extremely popular, but apparently the company wanted to be known for something new, something more appealing to US tastes.
With the exception of the label, the new Imperial champagne wasn't really different. In fact, it had the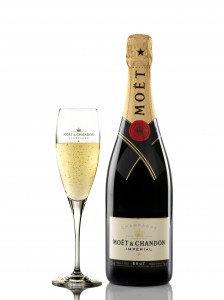 same amount of sugar as the White Star: 20 grams per liter. Which made it a tad sweet, very appealing, and a good match for many foods. But Elise Losfelt of the Moët winemaking team explained to me that studies found the American palate had evolved. In tests, Americans were found to prefer 9g/l or 11 g/l best. So over the course of the next few years, Moët gradually stepped down the amount of sugar in their Imperial champagne, first to 13 g/l and then to 9 g/l, where it is today.
So if you think your new Moët tastes a little different than a bottle you've had for a few years, you're right. But remember that champagne is made to be consumed within a year or two of its release date. Especially non-vintage champagne, like Imperial. Buy it and drink it within two years. Do NOT wait.