How much money should I spend on champagne?
Is more expensive champagne, like vintage champagne, always better?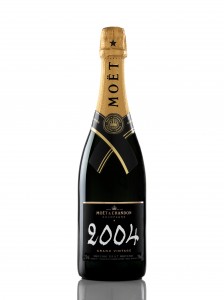 These are two questions I get a lot. In general, price does go up with quality – within certain tiers. I don't think you can get a good French champagne for under $40 – and there's a tier of $40-$50-ish champagnes that are very good. If you know your favorite champagne, go for that. If you don't have a firm preference then try whatever is discounted at your local wine shop.
Then there's the tier of $50-$100. Champagnes here tend to be a notch up in finesse and complexity. That's where you can find Vintage Champagne: champagne made in an exceptional year, from only the grapes harvested that year. While producers tend to make vintage champagnes a few times each decade, they don't release them right away. At Moët & Chandon, the current thinking is that a vintage champagne needs to be aged on the lees for at least seven years. It is then disgorged, and aged in the bottle for another year or two. That's why we're getting Moët's 2004 vintage champagne now, in 2013.
The other day, Elise Losfelt, the youngest of Moët's 10-member winemaking team was in town, introducing the 2004. Tasted against current and historical releases, the 2004 maintains Moët & Chandon's typical lightness of style. First of all, it has a great label, There's a large "2004 "written as if in chalk on a piece of slate: it looks like the small sign used to identify bottles ageing in Moët's cellars — labels are not put on the bottles until they are ready to be shipped as the cellars' dampness would ruin the paper.
Light yeast with agar and toast appear in the aromas of the 2004. It gets a bit heartier on the palate, with an almost fatty finish. Losfelt said her team's descriptors are "sleek, elegant and graceful" and "light but precise in aromas." The champagne is made from 38% chardonnay, 33% pinot noir and 29% pinot meunier, which is fairly typical. It was disgorged in 2011, and just released. Moët does disclose the disgorgement date on its vintage champagnes, but not the others. They expect this wine to drink well now, and for the next 15-20 years, too.
Another interesting twist is that Moet has also re-released some of their 1993 vintage champagne along with the 2004, because they say the vintages are fairly similar. 1993 was also the first year of their "Grand Vintage Collection." But after tasting the 1983 and 1973 at the same time, I think they could have made a different choice of pairings, preferably the 1983. But then again, maybe they don't have enough of it – though Moët & Chandon claims to have the largest collection of vintage champagnes in Champagne. After all, this champagne house was founded in 1743.