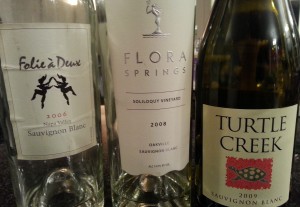 The other night while having people over for drinks, we opened three very good sauvignon blanc wines made in USA. Two from California, and one from Massachusetts (yes, MA!). We like them all. The wines were all somewhat different, and quite vigorous in nature – though one was much older than we realized at first.
Beginning with the youngest, the 2009 Turtle Creek Sauvignon Blanc ($17) landed on the smoky side, with some nice acidity along with its green grass and herbal elements. A longish finish, too.
2008 Flora Springs Soliloquy Vineyard in Oakville ($18-20) showed classic aromas at first, that dissipated after a while, leaving us with a mild, crystalline tart-sweetness in flavor. It was a bit more neutral in flavor than the others – which was appreciated by many of the tasters. A longish finish, with a bit of umami too.
Somehow, I had put this bottle of 2006 Folie à Deux Napa Valley Sauvignon Blanc away for a rainy day, and only rediscovered it this week. It was an amazingly vigorous wine; no one would have guessed its age. Strong, grassy herbs dominated its aroma, with more green herbs in the flavor. A tinge of cocoa rounded out the end-palate and finish.