Have to admit I have been curious about the new Barons de Rothschild Champagnes for the last few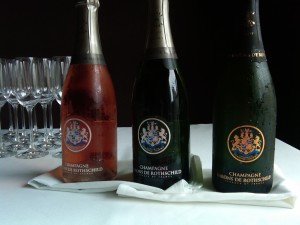 months. They're being rolled out like a (slow-motion) feature film release: first in 2 locations in NY and LA, and now into secondary markets. Don't you hate to be called that? But that's what we are, here in Boston.
A Rothschild did come to introduce the champagnes: Philippe. This charming 40-something has a longer name but I won't go into that here. The other important thing to know about him is he went to grad school here – HBS, of course. And he did invite a bunch of us to lunch with him at another high-toned Boston location– L'Espalier – where we nibbled light dishes with the Champagnes at lunch this week.
For the past few years, Philippe has been heading the Barons de Rothschild champagne venture, a rare innovation that aligns three branches of the family together in business.
The family's expansion from Bordeaux into Champagne has been undertaken with care: choosing an experienced winemaker, courting suppliers, stockpiling years of vintages for blending – and for possible future single vintage release. At the moment, there are three non-vintage champagnes in current release.
The champagnes themselves had a light complexity that could feel understated if you weren't paying attention. When I tasted them, they had been traveling on and off for a few weeks, and the NV Rosé was least accessible; its most impressive feature was its surprisingly deep apricot color.
The Brut NV had apricot, rich plum, lemon and chalky minerality running through it in both scents and flavors.
And the NV Blanc de Blancs had a nice wafting of chalk and minerals, somewhat bigger apple-y tasting flavors on the palate and fruit in the finish with a final dry bitterness, not sweetness; overall it was pretty light, and could easily be overwhelmed by hearty foods.
All three champagnes retail for around $100-$125.