Stay Away: that was the first message I got from Chateau La Nerthe in the Southern Rhone area of France — in Chateauneuf du Pape, to be precise. On a wine trip there some years ago, it was clearly painful for them to have a few journalists admitted to this prestige domaine.
We were supposed to look around quietly, listen to a few words about the ancient vineyards we had traveled through, have a couple quick tastes and leave quickly and unobtrusively. Which we did. And I never thought much about the wines since that uncomfortable time. Or if I did, I mentally shrugged, remembering the wines as "not for the likes of us peons."
So I was pretty surprised when I was recently invited to a luncheon in Boston featuring Chateau la Nerthe. I happened to be free, so I went over. And wow! The climate had really changed. New management? New attitude? Or was it that I was in the company of more salespeople today?
But as soon as I tasted the red wines, I didn't care. Rich, luscious, balanced, powerful but at the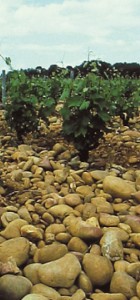 same time elegantly crafted. The wines are blends of the traditional grapes of the area — grenache, syrah, mourvedre and cinsault – and they've been organic since 1998.
I looked up the pricing just now, and the average price for a bottle has been in the $40s for the past year or so, and I say: well worth it! On balance, drink vintages that are 3-8 years old to find them at their peak.