For some time, whenever anyone asks me for a really good Merlot recommendation, I've been saying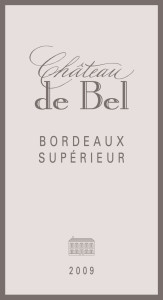 "Bordeaux." Too often, US Merlot wines are lacking…well… almost everything except fruitiness. I want a Merlot that tastes like well-made wine. That IS a well-made wine. And you have to go way up in price if you want to get that in the US. This week I opened a few different Merlots, and I started with the two lower-priced wines: both nicely crafted and both, surprisingly, $20 or under.
The first two were Bordeaux Supérieur wines. 2009 Chateau Timberlay: buttery, cheery, bright fruit aroma, with lightish tannins. Medium-light body up front but a more solid finish. The flavors deepened with food; great with a plain hamburger.
The 2009 Chateau de Bel "La Capitaine" was finely restrained in both its aroma and flavors. Mild dark cherry, cassis and some leather, backed by very nice tannins. Hamburger or steak would be great here.
Twomey's 2007 Napa Valley Merlot is a prime example of a US Merlot I would recommend. Across between red and black fruits, nicely integrated tannins. Moderate finish with a hint of cinnamon in its wood notes. Needs to accompany a little more complicated dish than plain meat; a beef stew flavored with onions, carrots and wine does the job nicely. Price? You have to go up; this one averages about $45.
Moving on to a less common American wine, I found a lot more fruit. I had pulled out a 2004 Dr. Konstantin Frank Merlot from the Finger Lakes, and found it bursting with fruit, pleasant and easy-drinking; quite a nice accomplishment in a Merlot from this area. And when I just looked up the price, it seems to go for only around $16 — fun if you can find it.