Actually, it was a relaxing Jacob's Creek webinar the other day — once I calmed down and realized there was nothing I could do to get the sound to work on this laptop I took on vacation with me.
It's been a while since I tried Jacob's Creek wines, and I was favorably impressed with several of them.
So I tasted along happily with the quiet slides, making my notes and enjoying the silence.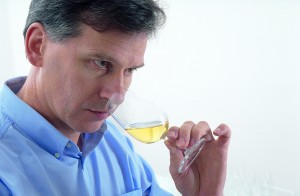 Tasting notes on the Jacob's Creek Reserve Wines:
1. Barossa Dry Riesling 2010: mineral and limestone, a touch floral. Acidity around the edges of a longish finish. Crowd-pleaser in the house, after the tasting.
2. Adelaide Hills Chardonnay 2009: Peaches in the nose, but not too much vanilla. Good acidity. Mix of Old- and New-World styles. Lushness with positive citric qualities. Surprisingly pleasant discovery for me.
3. Adelaide Hills Pinot Noir 2009: floral and jam aroma, along with a saline quality. Jam with the barest touch of earth and a sweet finish. Very New World fruitiness.
4. Coonawarra Cabernet Sauvignon 2009: plenty of leafiness, black current in aroma and flavor, some minerality and heat in finish. A soft wine.
5. Barossa Shiraz 2008. Earth and butter, in a medium-light style. Very ripe fruit, as well. New World, easy to sip.