I've had some of the the Exclusiv Vodcas for some time now, and I'm glad I waited and sampled them over the course of several weeks, in different ways.
Exclusiv is a wheat vodka made in Moldova, a tiny country tucked between Romania and Ukraine.
First, I want to mention that the bottles' design is lovely; they make a very attractive presentation.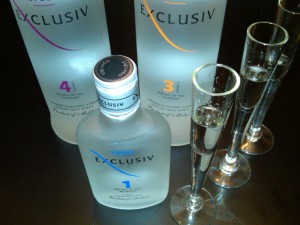 Nobody drinks vodka neat, at room temperature – except samplers like me – so Exclusiv is obviously made to be consumed chilled. This was most apparent with the unflavored version. Adding citrus, either lemon or lime, was a plus for the unflavored. But it proved unnecessary with the flavored versions.
With any flavored liquor, the manufacturer has several choices. This producer chose to use an orange oil type flavoring which has two advantages: it's not too sweet, and it holds up well when chilled. However, it's not so easy to get this type of flavoring for other fruits, so the raspberry is somewhat sweeter, even when chilled.
Also interesting is the price: a premium vodka, only around $13 for a fifth, or $20 for 1.75 liters.