The Macallan. Why does "the" sound so pretentious at first? And now it just rolls of my tongue. Actually, I haven't had any tonight. Recently I sampled several (again), from ten- to 25-year-old.
My favorite? The 17-year-old, which was elegant, smooth, with good body. I'd prefer to sip that one in the evening with its hints of flowers and fruit, whisps of peat and smoke.
The Macallan is single-malt, which means it's all made in one distillery. Sort of like estate-bottled wine. At that tasting I also learned that the US is the #1 market for The Macallan. The second is Taiwan, which surprised me. And, apparently every country has their own preferences for aged scotch. In Italy they drink 5-7 year old with tonic. The UK likes 10-year-old. In Japan it's 17-year-old, which I think has something to do with the symbolism of the number. And in the US, our favorite is 18-year-old.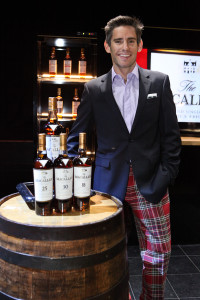 That same day I met the new Northeast Brand Ambassador, who was just being broken in – I mean introduced – to the market. His name is Charlie Whitfield and he's British, which means we love his accent. Actually, he's Scottish. Or is he Scotch? Anyhow, we were in Boston that day and though he's based in NYC, he had sense enough to talk about the Red Sox (though he mentioned he thought NY had a baseball team too).
Whitfield got to do the ice trick at this event. Somehow, he took a large block of ice and compressed it into the shape of a ball with a special copper machine. It doesn't take long, maybe a minute or less, and it's a great bar trick. If I had a bar, I'd get one of those machines from The Macallan people.
What you end up with is an ice sphere that fits perfectly into a glass, and melts slowly to create the perfect melding of The Macallan and water at a cool temperature. I wonder who in Boston has an ice ball machine?