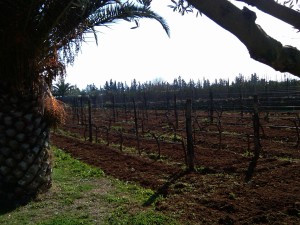 Having just returned from the annual Sicilia en primeur event, I find myself swimming in impressions about what's happening on this island. Or is it a continent on its own? The further from the mainland you get, the more you feel you're on a separate continent, a crosswind of cultures set out in the Mediterranean Sea, the center of the ancient world. Every province has its own character, and the wines are no exception.
The newest standout is Etna, the province around the volcano, where wineries are springing up in this unique terroir, the winemakers lured by altitude, independence and potential. With red wines, producers make a range from international to modern unoaked to ancient styles.
The white wines of Etna really stood out to me, their aromatics, crispness and minerality providing a vivid expression of the volcanic soils the grapes are grown in.
Nearby is Sicily's only DOCG: Cerasuolo di Vittoria, the wine a blend of nero d'Avila and frappato, two indigenous red grapes. The DOCG was created in 2005, and the wines I was tasting were well thought out, and well made. Nicely balanced. This blend is traditional to this part of Ragusa, in southeastern Sicily, but now that's been made official, it's changing – inevitably, I suppose.
From a native wine that was on the light side, ready to drink within a year, with the "cherry" notes its name evokes, the gravitas of the DOCG label is beginning to weigh the wine down, causing producers to think and rethink, to work on making it bigger and heartier. Instead of a wine that may age, pretty soon we may find this wine requires ageing.
Is this a good idea? Not necessarily. But it might be necessary if producers want to charge more now that they have that DOCG label around the neck of the bottle.
FOR MORE, listen to me on iwineradio.com