This week, #PalatePress participated in the #Pol Roger twitter tasting. We tasted four: NV Reserve Brut "white foil,' NV "Pure" Brut (non-dosage), Blanc de Blancs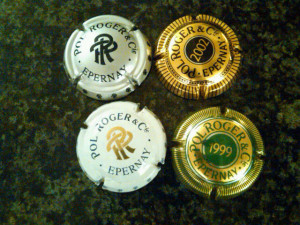 Brut vintage 1999, Brut Rose vintage 2002. (From Frederick Wildman, I should add.)
The house style is pretty light and crisp, which is why I was surprised to find that both now and historically, UK is their top market. Yet, this is also a very American style – that's how I think of "light and crisp." The style is consistent, throughout the range of wines we tasted this week.
Pol Roger is a house with its own long history: family-owned since it was founded in 1849.
And the only major house to continue hand-riddling.
Also, they use only indigenous yeast, according to Pol Roger's Laurent d'Harcourt.
The next day invited a couple friends for "leftovers" – that was fun, too.