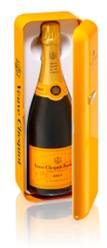 Veuve Clicquot travels. You knew this from a few years ago when they put out that great little suitcase. But now you're only going to see friends or relatives for the Holidays. So Veuve Clicquot has 2 new carriers: a designer-patterned pink zip-cover for the Rosé and a tiny refrigerator-shaped case in the same bright yellow-orange as their iconic label for the Non-Vintage champagne. I was lucky enough to be able to test both.
After chilling over night in my refrigerator, I put them on a typical windowsill, this one at 67 F. After three hours, the champagne inside the bottle which had been left in the little fridge case was at 53.5 F, just about the right temperature to drink. The Rosé was at 56 F, just slightly on the warm side.
To compare, a US fridge is typically set at 40 F, and champagne just out of the fridge is 39-40 F, a little too cold to drink. After 20-30 minutes, it warms up to around 46-48 F, which is a great temperature to start drinking.
So now you know: it's safe to take both the Rosé and the regular NV Veuve Clicquot to a party a couple hours away (just let it sit in a cool place for a few minutes to settle down from the journey) and the champagne will be ready to drink.