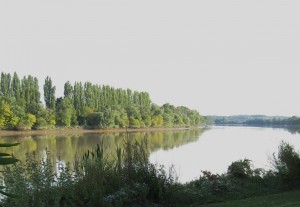 Bordeaux and Bordeaux Supérieur vineyards also line the wide Dordogne River. There, several new families have taken up residence and are re-working the traditional vineyards according to the new AOCs' specs. Near a traditional river fishing-hut with its winched-up net, Frederic Mallier is also going organic at Château de la Vielle Chapelle. Despite the frost, hail and other problems during the 2007 season, he has produced an extremely nice "everyday Bordeaux" with 80% Merlot and 20% Cabernet Franc which was my favorite in the tasting.
Also along the river are Dominique Meneret's park-like gardens, golden at the end of the day, next to his vineyards. Since he acquired Château Brondeau in 1980 and Château Courteillac in 1998, he has been working to make a "cashmere wine," smooth and elegant. Many of his wines have the feel of a Cru Classé; the 2009, still in barrel, was extremely promising, too.
Next door, at Château de Bel, Olivier Cazenave has fulfilled his dream of establishing his young family in a small house with vineyards. When we arrived one evening, we found he had also invited friends from Chateau Belgarde and Chateau La Mothe-du Barry to come over with their wines for an informal dinner.
This was preceded by a long Apéritif during the sunset on a deck over-looking the river, where we sipped everyone's wines while waiting for the mascaret – an remarkable, twice-daily tidal bore that comes up the Dordogne 70 km from the sea during certain seasons. And impressive sight I had never heard of before; I learned that in warmer months when the wave is higher, people surf this wave all the way up the river.
We experienced true historical life at Stefaan Massart's Château Vilatte, where he grows his own wheat and bakes bread in the 19th century oven he renovated. He took over the estate at 19, when his father died in the early 1980s. Stefaan's friend brought over a buggy drawn by a spectacular draft horse, to take us on a tour of the vineyards. Back at the house, looking at his curious collection of historic winery machines, we enjoyed a traditional, regional stew Stefaan had been cooking all day. Even his wines tended toward the historic, meant for ageing, like his merlot-based 2000: big, fruity and vibrant and great to drink right now, ten years after it was made.
Xavier Milhade of Château Recougne chose a different mode of transportation: he took us out on a simple oyster barge on the bay at Arcachon (Bordeaux's seaside getaway). Along with blue-eyed, curly-haired Jonathan, our pilot, we had our aperitif wine – sauvignon blanc with a good balance of crisp and fruity — on the boat. Afterward, we went back to Jonathan's oyster shack and feasted on fresh seafood matched to Xavier's wines.
To hear more about my travels through the region, listen to me on iwineradio
To learn more about the region, visit the Planet Bordeaux visitor center – it's about 20 minutes east of the city of Bordeaux — or check out the Planete Bordeaux website