Not only have the Bordeaux and Bordeaux Sup proprietors been improving their vineyards, they have also had to learn to cut costs. No matter that unemployment is high now, it's almost impossible to find people to work in the vineyards, especially during harvest time. Many people have found the price too high, with the French requirements for a 35-hour work week, lunch provided, etc. so they've mechanized. People like Veronique Barthe, who now rents the vineyards of the family's Château La Freynelle, who was very vocal about the problem of unwilling workers. She is the winemaker as neither of her brothers was interested, when their parents handed on the reins to the next generation. Her white was a great aperitif, and her rosé wine was hearty enough to pair with a full-course lunch.
At another place we visited, the small, family-owned At Château Penin—where they also make ends meet by exporting friends' wines to the Netherlands—they tend to do small, targeted mechanical harvests, whenever the grapes are ready in their different vineyards. Their 2008 Bordeaux "Grande Séléction" from 30-year-old vines was rich and velvety.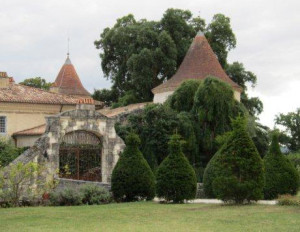 Christophe and Bénédicte Piat, who purchased the15th-century Château Couronneau in 1994, were in the midst of a quick mechanical harvest when we arrived, but didn't let it get in the way of having their two children politely greet everyone with a handshake. There they grow organic Merlot and Sauvignon Gris, and are concentrating on reducing the use of chemicals by 90% in their replanted vineyards. And, as it happens, this beautiful property, a medieval setting with gardens, horses and ducks, will appear on the next CD by jazz musician Kyle Eastwood (Clint's son) who had just finished recording there.
Hollywood has also touched the large Cooperative of Sauveterre. This co-op also blends wines for one of Francis Ford Coppola's projects. There, we did our own blending with cellar master Philippe Cazaux. His evaluations were extremely diplomatic – though I noticed he didn't happen to preserve any of our blends.
To hear more about my travels through the region, listen to me on iwineradio
To learn more about the region, visit the Planet Bordeaux visitor center – it's about 20 minutes east of the city of Bordeaux — or check out the Planete Bordeaux website