Excellent wines are pouring out of Bordeaux, at prices from $10 to $25 –several notches up from what you'd expect at these prices – a great choice for a "weekend wine." Look for the words Bordeaux or Bordeaux Supérieur on the label.
The winemakers refer to Bordeaux Superieur as Bordeaux Sup., which I can't help envisioning as Bordeaux SOUP. (Yum) I had a great time exploring these wines earlier this fall, meeting the winemakers at their homes, in a variety of picturesque scenes and activities. And getting some of my questions answered.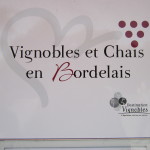 For instance, have you been wondering what happened to Merlot? Didn't it use to be a great wine? Yes, and it still is, in Bordeaux. The Bordeaux and Bordeaux Sup red wines are Merlot-based — sometimes blended with Cabernet Sauvignon and/or Cabernet Franc. And they're very good: structured and fruity, meaty and lightly tannic. Wines for a meal you can sink your teeth into, wines that are served with grilled steaks and stews, pâtés and all types of cheeses.
In addition, most of the producers in the southern and eastern parts of this region make white wines that are usually a blend of Sauvignon Blanc and Semillon. These whites are an integral part of the local ritual of the Apéritif: a chilled glass is poured, a plate of sliced pâtés and salamis is brought out, and people come together to relax for a few minutes and talk about their day, before lunch or dinner. Always a very welcome respite in the hectic schedule our little band of writers maintained for our week in Bordeaux.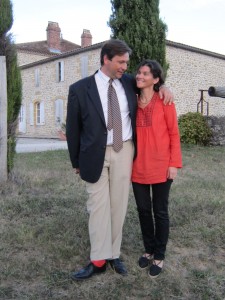 Traditions like these die hard in the countryside, and for that I'm thankful. It's part protocol and part hospitality. Like the kids: every single child we met said a polite hello and kissed every guest on both cheeks, or shook hands. As they did at Château Bellevue, where genial Yves de Ponton d'Amécourt and his artistic wife Sophie have six beautifully-behaved children, each of whom came out to the vineyards next to the house to greet us as they arrived home from school.
In the rolling hills along the border of the Dordogne region, in addition to his other red grapes, Yves now plants a little Malbec, too. As does his neighbor, Regis Chayne of Château Ballan-Larquette – to add character to the wines, they explained over dinner. As at most of the chateaux (wineries) we visited, they also make some white wine. Two of my favorites at that meal: 2007 Château Ballan-Larquette dry white, with good fruit and enough body to pair with turkey for dinner, and then, with Camembert, the 2005 Château Bellevue "Friends Reserve" red.
To hear more about my travels through the region, listen to me on iwineradio
To learn more about the region, visit the Planet Bordeaux visitor center – it's about 20 minutes east of the city of Bordeaux — or check out the Planete Bordeaux website