Just back from a week in one of my favorite places, Jerez, Spain. Home of fabulous Finos, mouthwatering Manzanillas, excellent PXs – you get the idea.
[ For more on my trip go to PalatePress.com] And listen HERE on iwineradio
Bodegas (wineries) in Jerez have become very tourist-friendly lately. Weddings and other events are held in their cathedral-like buildings, and in Harvey's gardens. We visited several other bodegas, among them Valdespino, the mighty Osborne group and Sanchez Romate, where I bought a great dessert sherry made from the (now-rare) Moscatel grape. All sherry is made from white grapes, and all the dry wines – in fact most sherries – are made from the palomino grape.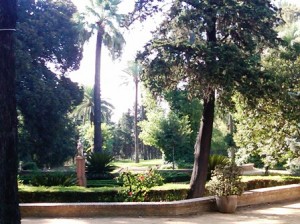 Gonzalez Byass, well known for its Fino called Tio Pepe (and I am still addicted to starting a meal with this), was the third most visited winery in Europe the last time they took a poll. Williams & Humbert is recognized for its Dry Sack sherry, a term known since Shakespeare's time, from saca, the Spanish word for taking out [of the barrel]. By the way, the famous Andalusian dancing horses are also housed here, and they give daily shows – very impressive and beautiful to watch.
Around the world people sip Fino and Manzanilla before a meal, nibbling salted almonds. But in Spain they really know what to do with these light sherry wines. They continue sipping it with other tapas such as slices of the luscious, succulent belotta ham, lightly brined green olives and aged cheese, followed by plump, tender pink shrimp and other super-fresh fish and seafood from local fisherman. For the next courses, switch to an Oloroso – the heartier, more structured sherry of your choice; pork, meat and fish stews, rice pilaf and other dishes go well with these wines.
"Cream" sherry was not created to be sweet, rather it consists of a number of sherries blended to be as smooth as cream; it is both nutty and sweet in flavor. Worldwide, Harvey's Bristol Cream is the king of this category. Harvey's also makes a wonderful VORS Palo Cortado with an average age of 60 years, that goes well with red meat dishes.
Lustau relocated a few years ago, a process that took 2-1/2 years, with every one of the 15,000 barrels then having to be re-inspected upon arrival. While we were there, it was very warm and they were sprinkling the floors to maintain humidity — with water from their own three wells. Oloroso is Lustau's flagship category, but don't be intimidated – try their dry Amontillado with a nice tuna dish. (Tuna sandwich? Tuna casserole? Why not?) Lustau also has many proprietary, named blends, with varying degrees of dryness.
A few new bodegas have started up in the past dozen years by buying up extra stock from both established bodegas and from the almacenistas (independents) who have traditionally made sherries for the big companies that age, distribute and export them. Bodega Tradición (a good name, I guess) started in 1998, and it was there I found my favorite Pedro Ximenez sherry. "PX" as it's now known in English is a fruity, super-sweet style made from the Pedro Ximenez grape: thick and rich, with elements of dried fruits, most often with fig, carob and raisin flavors. Tradición's was positively chocolaty. Why didn't I buy a bottle when I was there?