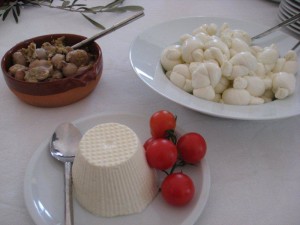 I now require soft, fresh white mozzarella cheese every morning. And sometimes as a first course in the evening , too. Strewn with red, juicy cherry tomato halves, a drizzle of this season's gold-green olive oil, and a sprinkling of salt and pepper. This the cucina povere (cuisine of the poor) from Puglia, the Italian province in "the heel of the boot."
The food is abundantly fresh in this warm Mediterranean climate, though traditionally without much variety: pasta made without eggs, fresh cow's milk cheese, native greens and wild onions, chick peas or fava beans, and bright, ripe cherry tomatoes, both fresh and dried. They decorate their few pastas and creamy new mozzarellas with knobs and twists and curls. They create a golden tan sauce with fava beans for their wild chicory, and augmented it with a chick pea condiment. They eat petal-shaped pasta with simple, fresh tomato sauce. For a side dish, they caramelize wild onions then scramble in some egg. Today, these are prized elements of native Puglian cuisine. Along with wines made from grapes that have been used for wine for 2500 years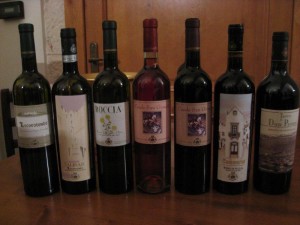 What do they drink now? This is not a simple answer, as Puglia is made up of several different provinces, 25 DOCs, each with their own rules about which grapes to grow and blend. Many Puglian indigenous grapes are unheard of in much of the rest of the world: Bombino Bianco, Bianco d'Alessano, Greco Bianco, Nero di Troia (also known as Uva di Troia), Negroamaro, Sussumaniello. Some of the grapes we know, but not well: Aleatico, Aglianico, Fiano, Malvasia, Moscato and Primitivo.
Tourism is expanding in tandem with the wine industry's revitalization. Puglians are reaching out to industry professionals from other countries. Though there are, of course, more hotels and rental properties being built, I was fascinated with the country houses and masserias – ancient, fortified farmsteads – converted into hotels with often with restaurants, spas, pools and beach shuttles. Their welcoming rooms offer privacy as well as sanctuary, opening off central living spaces, courtyards and lanes. Like those I visited: country house hotel Cefalicchio with its restaurant, spa and biodynamic vineyards; and village-like Masseria Torre Coccaro which has spa, restaurant, pool and even its own cooking school, if you want to learn how to make the Puglian dishes you've been tasting – along with all those newly-discovered wines.